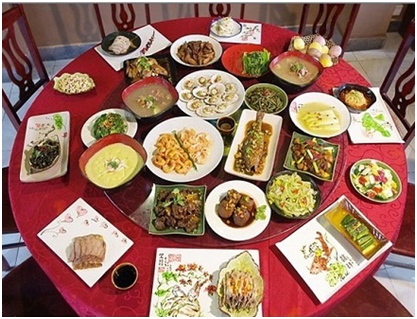 Are you thinking about hosting a dinner party for your family and friends? Well if you are then, the first thing that you will have to do, is plan out the perfect dinner menu with which you can definitely host a number of people to a tasty meal right at your home.
If you are planning on hosting quite a large group, then the best option for you would be to make sure that you get your food from a nice and quality controlled restaurant like Oye's Chinese Restaurant. All you need to do when ordering out is selecting the right dishes and placing the order with them. Here's a nice and classy dinner menu that you can try out:
It is always better to start with some unique and refreshing starters to create the perfect beginning to your meal. If you are looking for something in chicken then try out the chicken lettuce wrap for a nice intake of protein. If you want to try out something really fresh and with a bit of soft crunch, then you can go for the coconut chicken bites which will surely add a burst of flavours to anyone who eats it.
If you want to start off the meal with something heavy and if the weather has a nip in the air, then you can always go for BBQ pork ribs. With oodles of fat and a fine helping of BBQ sauce, this is one of the most enjoyed and celebrated dishes across the world and hence anybody who tries it will be happy. If you are more into sea food then you can try out the shell crab which is not only soft but the meat of the crab adds to the beauty of all the flavours.
When it comes to ordering from Oye's Restaurant for the main course then you can try out a number of dishes. If you are fond of beef and you want to try out something new then go for beef cooked with basil which is one of their specialities. If you want to keep it light but loaded with protein then you can go with a few chicken dishes like basil chicken or broccoli and chicken, if you are fond of your greens. You can try out the classic chicken chow mien which is an all time favourite of those who love to eat Chinese.
If you want to fusion your dinner with flavours from the orient, then you can try out sushi. Made with fishes of the most varying varieties, sushi is an elegant and classy dish which never fails to go wrong. This is something that you can have for any dinner that you host.
And finally no meal is ever complete without a desert, is it? Get some soft and creamy ice cream or pudding. Try to make the desert at home since they are comparatively easier to make and since you have people coming over, they will definitely expect something from your kitchen.
So, these are some of the best dishes that you can combine together to pull off the perfect dinner menu when hosting.